Home > Food > Recipes > Mediterranean Spice-Rubbed Pork Chops with Apricot-Mint Relish
Mediterranean Spice-Rubbed Pork Chops with Apricot-Mint Relish
Spices from the Mediterranean make these pork chops taste slightly exotic.
Ingredients:
4 pork rib chops, about 11/2in (3.5cm) thick, 12-14oz (350-400g) each
2 tablespoons olive oil
The relish
3 ripe apricots, pitted and diced medium (about 1 cup)
1/4 cup roughly chopped fresh mint
Juice of 1/2 lemon (about 2 tablespoons)
4 dashes Tabasco sauce
Kosher salt and freshly cracked black pepper to taste
The spice rub
1/4 cup sesame seeds
1/3 cup coriander seeds, freshly cracked
2 tablespoons ground fenugreek
2 tablespoons dried oregano
1 tablespoon ground cumin
1 tablespoon kosher salt
Pinch ground cinnamon
Directions:
Build a multilevel fire in your grill (see Multilevel charcoal fire). When the coals are all ignited, the flames have died down, and the temperature is medium (see Gauging the temperature), you're ready to cook.
For the spice rub, toast the sesame seeds in a dry skillet on the grill, shaking them frequently to prevent burning, until they become just a shade darker (3-5 minutes).
Combine the spice rub ingredients in a small bowl and mix well. Measure out about 1/4 cup of the rub for the pork chops. Rub the chops with oil and coat them with the spice rub, pressing gently to be sure it adheres.
Put the chops on the grill over the hotter part of the fire and cook, turning once, until well seared (3-4 minutes per side). Move the chops to the cooler side of the grill, cover them with a metal pie pan or disposable foil pan, and let them cook slowly until they are done to your liking (8-10 minutes per side for medium). To check for doneness, poke the chops with your finger to test their firmness (see The "hand method"); if you're unsure, make a small cut in the thickest part of one chop to be sure it is just slightly less done than you like it.
While the chops are on the grill, combine the apricots, mint, lemon juice, Tabasco, and salt and pepper in a small bowl and mix well. Transfer to a serving dish and set aside.
Transfer the chops to a platter and serve, passing the relish on the side.
excerpted from: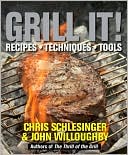 Sign-Up Now!
Sign up to save recipes or create shopping lists online.
Already registered? Login here

Cooking Tips
More Videos: