Home > Food > Recipes > Molasses & Chile-Glazed Pork Medallions with Smoky Corn-Red Pepper Relish
Molasses & Chile-Glazed Pork Medallions with Smoky Corn-Red Pepper Relish
This pork dish has so many wonderful flavors going on in the glaze and the relish.
Ingredients:
1/3 cup molasses
2 tablespoons butter, melted
1 tablespoon red pepper flakes
1 tablespoon freshly cracked black pepper
8 pork loin cutlets, 3/4in (2cm) thick, 5oz (140g) each
2 tablespoons olive oil
Kosher salt and freshly cracked black pepper
The relish
1 red pepper
3 ears corn, shucked and de-silked
1/4 cup roughly chopped fresh basil
3 tablespoons extra virgin olive oil
3 tablespoons balsamic vinegar
1 teaspoon minced fresh garlic
Kosher salt and freshly cracked black pepper to taste
Directions:
Build a fire in your grill. When the coals are all ignited, the flames have died down, and the temperature is medium-hot (see Gauging the temperature), you're ready to cook.
For the relish, put the pepper on the grill, rolling it around until the skin is completely black and blistered on all sides (8-12 minutes). Put it in a paper bag, fold it closed, and set aside until the pepper is cool enough to handle. Then gently pull the skin from the pepper, tear it open, remove the seeds, ribs, and stem, and dice medium. While the pepper is cooling, put the ears of corn on the grill over the coals and cook, rolling them around occasionally, until they are starting to brown and are a little bit tender (3-4 minutes). Transfer the ears to a cutting board and slice the kernels off the cobs; you should have about 11/2 cups of kernels. Combine the roasted red pepper, toasted corn, basil, oil, vinegar, and garlic in a medium bowl and mix well. Season to taste with salt and pepper, then transfer the relish to a serving dish.
Make the glaze: Combine the molasses, butter, red pepper flakes, and pepper in a small bowl and mix well.
Dry the pork cutlets with paper towels, rub them all over with olive oil, and sprinkle them generously with salt and pepper. Put them on the grill directly over the coals and cook, turning once, until done to your liking (about 5 minutes per side for medium-well done). Brush them with the glaze during the last 30 seconds of cooking on each side. To check for doneness, poke the meat with your finger to test its firmness (see The "hand method"). If you're unsure, make a small cut in it; it should be just slightly less done than you like it. Transfer the cutlets to a serving platter, cover them loosely with foil, and let them rest for 5 minutes before serving with the relish and any remaining glaze.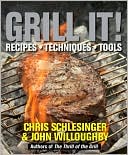 Sign-Up Now!
Sign up to save recipes or create shopping lists online.
Already registered? Login here
Cooking Tips
More Videos: