Home > Food > Recipes > Moussaka
Moussaka
This famous Greek specialty is an excellent make-ahead dish, particularly if you have a large number to feed.
Prep Time: 1H15M
Cooking Time: 40M
Serves: serves 6
Ingredients:
Egg & nut free
3 eggplants
salt
olive oil
2 large onions, chopped
3 garlic cloves, finely chopped
1/2 tsp ground cinnamon
1/4 tsp paprika or mild chili powder
1 lb 2 oz ground lamb
1 tbsp tomato paste
1 scant cup red wine
freshly ground black pepper
1/2 tsp dried oregano
6 tbsp all-purpose flour
1 quantity Béchamel sauce
1/3 cup crumbled feta or grated
Directions:
Cut the eggplants lengthwise into 1/4 inch slices. Place in a colander, sprinkle with salt, and leave for 30 minutes for the salt to draw out the bitter juices; then rinse and pat dry with paper towels.
Heat 2 tablespoons of olive oil in a heavy-bottomed casserole dish or frying pan and fry the onions and garlic for 2 minutes until softened. Stir in the spices.
Add the ground lamb and fry until browned. Using a wooden spoon, turn the lamb constantly to break up any lumps. Add the tomato paste and wine, season with salt and pepper, and stir well. Bring to a boil, reduce the heat as low as possible, and simmer uncovered, stirring occasionally, for 40 minutes. Remove from the heat and stir in the oregano.
Meanwhile, heat enough olive oil to coat the base of a frying pan, season the flour with salt and pepper and dip the eggplant slices in the flour. Fry in batches until golden on each side. Drain well on paper towels.
Make the béchamel sauce and stir in the feta or Parmesan.
Preheat the oven to 375° F. Line the base of a 8 × 10 inch ovenproof dish with a layer of eggplant slices, then half the meat, then eggplant, then the remaining meat, finishing with eggplant. Top with the béchamel sauce. Bake for 40 minutes until the top is lightly browned and bubbling.
Tips:
Watch out for chili, since some people can't tolerate it. Omit the chili powder if need be.
Do not stint on the paper towels when draining the oil from the cooked eggplant, since this prevents the moussaka from swimming in oil.
Serve with a mixed salad topped with olives and cubes of feta cheese or a dairy-free alternative.
Variations
Dairy free also egg & nut free: Follow the recipe for Egg & nut free, but use the dairy-free Béchamel sauce recipe. Use dairy-free crumbled feta or dairy-free grated Parmesan, Gouda, or cheddar-style cheese.
Gluten free also egg & nut free: Follow the recipe for Egg & nut free, but substitute rice flour for all-purpose flour when coating the eggplant slices and use the gluten-free version of Béchamel sauce.
excerpted from: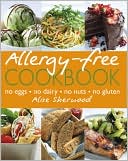 Excerpted from Allergy-Free Cookbook.
Copyright © 2009 Dorling Kindersley Limited.
Buy this book now!
Sign-Up Now!
Sign up to save recipes or create shopping lists online.
Already registered? Login here

Cooking Tips
More Videos: