Home > Food > Recipes > Mustard-Glazed Pork Tenderloin with Date-Sage Relish
Mustard-Glazed Pork Tenderloin with Date-Sage Relish
Pork tenderloin coated with spicy mustard seeds and brushed with a sweet mix of honey and mustard makes a simple dish taste elegant.
Ingredients:
2 pork tenderloins, 12-14oz (350-400g) each
Kosher salt
3 tablespoons brown mustard seeds
3 tablespoons freshly cracked black pepper
3 tablespoons olive oil
1/4 cup wholegrain mustard
1/4 cup honey
The relish
1 tablespoon freshly cracked coriander seeds (or substitute 11/2 teaspoons ground coriander)
1/4 cup pitted, diced dates
Juice of 1/2 orange (about 1/4 cup)
Juice of I lemon (about 1/4 cup)
1/4 cup roughly chopped fresh parsley
2 tablespoons roughly chopped fresh sage
1 tablespoon peeled and minced fresh ginger
1 tablespoon finely minced orange zest
Directions:
Build a fire in your grill. When the coals are all ignited, the fire has died down, and the temperature is medium (see Gauging the temperature), you're ready to cook.
Toast the coriander seeds for the relish, if using, in a dry skillet on the grill, shaking them frequently to avoid burning, until they become fragrant and are just a shade darker (3-5 minutes).
Dry the tenderloins well with paper towels and sprinkle generously with salt. Combine the mustard seeds, black pepper, and oil in a small bowl and mix well. Rub this mixture all over the meat, pressing gently to make it adhere.
Whisk the mustard and honey together in another small bowl until well blended.
Put the tenderloins on the grill over the coals and cook, rolling them around every 3-4 minutes for even cooking, until they are done to your liking (12-15 minutes for medium). Brush the tenderloins all over with the honey mustard during the last 30 seconds of cooking. To check for doneness, poke the meat with your finger to check its firmness (see The "hand method"). If you're unsure, make a cut in the thickest part of one of the tenderloins; it should be slightly less done than you like it. Transfer the tenderloins to a cutting board and cover them loosely with foil to keep warm.
While the tenderloins are resting, combine all the relish ingredients in a small bowl and toss gently.
Carve the pork into 1/2in (1cm) thick slices, and arrange these on a serving platter. Drizzle with the honey mustard, and pass the relish on the side.
excerpted from: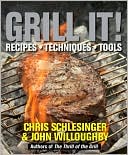 Sign-Up Now!
Sign up to save recipes or create shopping lists online.
Already registered? Login here

Cooking Tips
More Videos: