Home > Food > Recipes > North Carolina-Style Pulled Pork Barbecue with Tidewater Coleslaw
North Carolina-Style Pulled Pork Barbecue with Tidewater Coleslaw
This is the perfect meal for large gatherings, and also freezes like a charm.
Ingredients:
2 boneless pork butt roasts, 4-5lb (1.8-2.25kg) each
3 tablespoons olive oil
The rub
4 tablespoons paprika
2 tablespoons kosher salt
2 tablespoons freshly cracked black pepper
2 tablespoons ground cumin
2 tablespoons chile powder
2 tablespoons soft dark brown sugar
1 tablespoon cayenne pepper
The coleslaw
11/2 cups store-bought mayonnaise
1/3 cup distilled white vinegar
1/3 cup granulated sugar
1 tablespoon celery seeds
1 head green cabbage, finely shredded
2 carrots, finely grated
Kosher salt and freshly cracked black pepper to taste
The sauce
1 cup distilled white vinegar
1 cup cider vinegar
1 tablespoon granulated sugar
1 tablespoon red pepper flakes
1 tablespoon Tabasco
Kosher salt and freshly cracked black pepper to taste
Directions:
Light a fire well over to one side of your grill, using enough coals to fill a large shoebox.
Combine the spice rub ingredients in a small bowl and mix well. Rub the pork roasts with the oil and coat them generously with the spice rub, pressing gently to make sure it adheres.
When the fire has died down and the coals are covered with white ash, place the pork on the side of the grill away from the coals, being careful that none of the meat is directly over the coals. Put the lid on the grill with the vents open one-quarter of the way, and cook, adding a handful of fresh charcoal every 30 minutes or so, for 7-9 hours. To test for doneness, stick a big fork in it and try to lift the meat up-if it falls off the fork, it's done.
Meanwhile, make the coleslaw: Combine the mayonnaise, vinegar, sugar, and celery seeds in a large bowl and mix well. Add the cabbage and carrots and toss well to blend. Season with salt and pepper, cover, and refrigerate until serving time.
Now make the barbecue sauce: Combine the vinegars, sugar, pepper flakes, Tabasco, and salt and pepper in a medium bowl and mix well.
Chop or shred the pork (if it's still too hot to handle, use two forks to pull it apart) and mix it with as much of the sauce as you like. Pile it onto the bread or buns, top with the coleslaw, and serve.
excerpted from: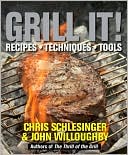 Sign-Up Now!
Sign up to save recipes or create shopping lists online.
Already registered? Login here

Cooking Tips
More Videos: