Home > Food > Recipes > Open-Faced Grilled Sirloin and Tomato Sandwiches
Open-Faced Grilled Sirloin and Tomato Sandwiches
This grilled steak kebab salad features lightly grilled cherry tomatoes piled on top of thick slices of grilled bread.
Ingredients:
2lb (900g) beef sirloin tips, cut into 11/2in (3.5cm) cubes
2 tablespoons vegetable oil
2 tablespoons freshly cracked cumin seeds (or substitute 1 tablespoon ground cumin)
Kosher salt and freshly cracked black pepper to taste
16 cherry tomatoes
4 slices of good French bread, about 1in (2.5cm) thick
The dressing
1/2 small red onion, peeled and diced small
1/2 cup roughly chopped fresh parsley
1/3 cup extra virgin olive oil
1/4 cup balsamic vinegar
1 tablespoon minced fresh garlic
3-6 dashes Tabasco sauce, or to taste
Kosher salt and freshly cracked black pepper to taste
Directions:
Build a fire in your grill. When the coals are all ignited, the flames have died down, and the temperature is medium-hot (see Gauging the temperature), you're ready to cook.
Combine the vinaigrette ingredients in a large bowl, mix well, and set aside.
Combine the sirloin tips, oil, cumin, and salt and pepper in a large bowl and toss until the tips are evenly coated. Thread the tips onto skewers, put them on the grill directly over the coals, and cook until they are just done (5-7 minutes per side for medium-rare). To check for doneness, poke the meat with your finger to test its firmness (see The "hand method"); if you're unsure, cut into one of the tips; it should be slightly less done than you like it.
While the meat is cooking, thread the cherry tomatoes onto skewers, put them on the grill next to the meat, and cook just until the tomatoes are lightly colored but not cooked through (about 2 minutes per side). Arrange the bread slices around the perimeter of the fire and cook until lightly toasted (about 2 minutes per side).
When the meat and the tomatoes are done, gently push them off their skewers into the bowl containing the vinaigrette, then toss gently to coat.
To serve, place a slice of toast on each plate, spoon the sirloin and tomatoes evenly over the toasts, and serve immediately.
excerpted from: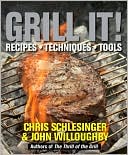 Sign-Up Now!
Sign up to save recipes or create shopping lists online.
Already registered? Login here

Cooking Tips
More Videos: