Home > Food > Recipes > Orange and Bourbon-Brined Barbecued Whole Turkey
Orange and Bourbon-Brined Barbecued Whole Turkey
Here's a Southern-style turkey that's great not just for Thanksgiving, but any time you have a crowd coming over.
Ingredients:
1 gallon (4 liters) water
2 cups kosher salt
11/2 cups granulated sugar
1 cup bourbon
2 oranges, sliced
The turkey
12-15lb (5.5-6.5kg) turkey, giblets removed
Freshly cracked black pepper to taste
2 apples (variety of your choice), cored and quartered
1 red onion, peeled and quartered
3 tablespoons roughly chopped fresh sage
Directions:
Combine the brine ingredients in a large container that the turkey will easily fit into, and stir to dissolve the salt and sugar. Rinse the turkey well inside and out, then place it in the container, making sure it is completely submerged in the brine. Refrigerate for 24-48 hours, turning every 12 hours.
Light a fire well over to one side of your grill, using enough coals to fill a large shoebox. When the fire has died down and the coals are covered with white ash, remove the turkey from the brine and rinse it well, inside and out. Dry the bird with paper towels, sprinkle the cavity generously with pepper, and stuff it with the apples, onion, and sage.
Place the turkey on the side of the grill away from the coals, being careful that none of the bird is directly over the coals. Put the lid on the grill with the vents open one-quarter of the way and cook, adding a handful of fresh charcoal about every 30 minutes, until the juices run clear when you pierce the thigh with a fork (21/2-3 hours). Turn the turkey around at least twice during this time, or more often if the side nearest the heat seems to be cooking too quickly. (To double-check doneness with a meat thermometer, insert it in the pit between the breast and leg; when the thermometer reads 160°F/71°C, the bird is done.)
Remove the bird from the grill, cover it loosely with foil, and allow it to rest for at least 15 minutes. Discard the apples and onions and carve it up.
excerpted from: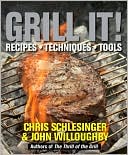 Sign-Up Now!
Sign up to save recipes or create shopping lists online.
Already registered? Login here

Cooking Tips
More Videos: