Home > Food > Recipes > Pepper-Crusted Smoke-Roasted Top Loin with Green Peppercorn Sauce
Pepper-Crusted Smoke-Roasted Top Loin with Green Peppercorn Sauce
Roast beef with traditional green peppercorn sauce is sure to become a family-favorite in your household.
Ingredients:
1 beef top loin roast, 6-8lb (2.7-3.6kg)
3 tablespoons olive oil
1 cup freshly cracked black pepper
1/2 cup kosher salt
The sauce
1 cup brandy
1/4 cup green peppercorns, drained and rinsed
2 cups beef stock
1 cup heavy cream
8 tablespoons unsalted butter, diced and kept cold
1/4 cup roughly chopped fresh parsley
Kosher salt and freshly cracked black pepper to taste
Directions:
Light a fire well over to one side of your grill, using enough coals to fill a large shoebox.
Rub the beef with the oil and coat it evenly with the pepper and salt, pressing gently to make sure it adheres.
When the fire has died down and the coals are covered with white ash, place the beef on the side of the grill away from the coals, being careful that none of the meat is directly over the coals. Put the lid on the grill with the vents open one-quarter of the way and cook, adding a handful of fresh charcoal every 30 minutes or so, until the beef is done the way you like it (45 minutes to 1 hour for medium-rare). To check for doneness, poke the roast with your finger to test its firmness (see The "hand method"). If you're unsure, insert a meat thermometer in the center of the roast and let it sit for 5 seconds, then read the temperature; you're looking for 120°F (49°C) for rare, 126°F (52°C) for medium-rare, 134°F (57°C) for medium, 150°F (65°C) for medium-well, and 160°F (71°C) for well done. (We like to pull the roast at 122°F/50°C.) When the roast is done, remove it from the grill, cover it loosely with foil, and allow it to rest for at least 15 minutes before carving.
While the beef is cooking, make the sauce on the stove top: Combine the brandy and green peppercorns in a medium sauté pan over medium-high heat. Bring to a boil, adjust the heat to medium, and simmer until the brandy is syrupy (about 3 minutes). Add the beef stock and continue to simmer until reduced by one-third (about 15 minutes more). Stir in the cream and simmer until slightly thickened (about 10 minutes more). Turn the heat to low, then gradually whisk in the cold butter, a few chunks at a time. When all the butter has been added, remove the sauce from the heat and stir in the parsley and salt and pepper.
To serve, cut the beef into slices, arrange them on a platter, and run a ribbon of sauce down the middle of the slices. Pass the remaining sauce on the side.
excerpted from: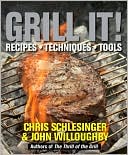 Sign-Up Now!
Sign up to save recipes or create shopping lists online.
Already registered? Login here

Cooking Tips
More Videos: