Home > Food > Recipes > Roast pork with fennel
Roast pork with fennel
Fennel and pork are a winning combination. In this dish, they're paired in two ways, with fennel seeds coating the roast and bulb fennel cooking around it.
Prep Time: 10M
Cooking Time: 1H40M, including gravy
Serves: serves 6-8
Ingredients:
Dairy, egg, gluten, & nut free
3 fennel bulbs
6 tbsp light olive oil
1 tbsp light brown sugar
2 1/2 lb boned pork loin (skin taken off, but fat left on)
1 tsp rock salt
1 tbsp crushed black peppercorns
3 tbsp fennel seeds
1 tbsp finely chopped fresh rosemary
1 cup vegetable or chicken stock
1 cup dry white wine
lemon juice (optional)
Directions:
Preheat the oven to 375° F.
Cut the feathery fronds off the fennel. Cut the bulbs lengthwise into quarters or sixths, depending on their size.
In a bowl, toss the fennel pieces in 4 tablespoons of the olive oil and brown sugar to coat them evenly.
Tie the pork with string at regular intervals in four or five places along its length, so that it is cylindrical. This will give you a more evenly cooked and better looking roast.
Heat the remaining oil in a roasting pan. Brown the meat quickly all over. Mix together the rock salt, peppercorns, fennel seeds, and rosemary on a large flat plate, spreading it out evenly. Roll the meat in this mixture, pressing it into the meat with your hands.
Place the roast on a rack in the roasting pan. Arrange the fennel pieces around the meat.
Roast in the oven until cooked through and the fennel is golden and caramelized at the edges, but still slightly firm in the center, about 11/2 hours. Turn the fennel once during cooking.
Transfer the pork and fennel to a carving dish and keep warm. Spoon off the excess fat from the roasting pan, leaving the juices. Add the stock and wine and stir, scraping any bits stuck to the pan into the liquid using a wooden spoon. Strain the gravy into a saucepan to remove any stray seeds or peppercorns. Boil rapidly for 5 minutes until reduced by a half. Season and sharpen with lemon juice, if desired.
Carve the pork, transfer to warm plates, and spoon the gravy over.
Tips:
Pork loin is a lean cut and can overcook and dry out easily so buy meat with a layer of fat on top and leave it on during cooking.If you like crackling, roast the skin alongside the meat. Score the skin, sprinkle with salt, and place on a flat baking tray. Roast on a high shelf for 20-30 minutes or until it is crisp.
Watch out for bouillon cubes, which may contain traces of dairy or gluten, if you're cooking for people with severe dairy or gluten sensitivities.
excerpted from: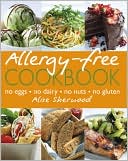 Excerpted from Allergy-Free Cookbook.
Copyright © 2009 Dorling Kindersley Limited.
Buy this book now!
Sign-Up Now!
Sign up to save recipes or create shopping lists online.
Already registered? Login here

Cooking Tips
More Videos: