Home > Food > Recipes > Rosemary-Crusted Rack of Lamb with Other Greek Flavors
Rosemary-Crusted Rack of Lamb with Other Greek Flavors
Grilled peppers, feta cheese, rosemary, lemon, and parsley pair perfectly with grilled lamb.
Ingredients:
2 racks lamb, 12-14oz (350-400g) each
2 tablespoons vegetable oil
Kosher salt and freshly cracked black pepper to taste
3 tablespoons roughly chopped fresh rosemary
The topping
1/4 cup extra virgin olive oil
Juice of 1 lemon (about 1/4 cup)
1/4 cup roughly chopped fresh parsley
4oz (115g) feta cheese, diced small or crumbled
Kosher salt and freshly cracked black pepper to taste
2 red, yellow, or orange bell peppers, halved lengthwise, cored, and seeded
1 tablespoon vegetable oil
Directions:
Light a fire well over to one side of your grill, using enough coals to fill a large shoebox. When the fire has died down, the coals are covered in white ash, and the temperature is medium (see Gauging the temperature), you're ready to cook.
Rub the lamb racks with the vegetable oil, sprinkle them generously with salt and pepper, and pat all over with the rosemary, pressing gently to be sure it adheres.
Put the racks on the grill, fat side up, over the coals but near the edge of the fire. As soon as the side facing down is nicely browned, which should take about 15 minutes, flip the racks over and cook until the fat side is also well browned-about another 15 minutes. Watch carefully for flare-ups during this time; if they do occur, move the rack to the part of the grill with no coals until the flames have disappeared. To check for doneness, poke one of the racks with your finger to test its firmness (see The "hand method"); if you are unsure, insert a meat thermometer into the thickest part of the lamb, let it sit for 5 seconds, then read the temperature: look for 120°F (49°C) for rare, 126°F (52°C) for medium-rare (how we like it); 134°F (57°C) for medium, 150°F (65°C) for medium-well, and 160°F (71°C) for well done. When done to your liking, remove from the grill, cover loosely with foil, and allow to sit for 10 minutes.
While the lamb is cooking, combine the olive oil, lemon juice, and parsley in a small bowl, and whisk to blend. Add the feta cheese, season with salt and pepper, and set aside.
When the lamb is nearly done, rub the pepper halves with oil, season with salt and pepper, and grill directly over the coals until golden brown but still crisp (2-3 minutes per side). (Don't char them, since they won't be peeled.) When the peppers are done, cut them into 1/2in (1cm) wide strips, add to the bowl of feta, and toss gently.
Cut the lamb racks into double or single chops, arrange on a platter, and spoon the feta-pepper mixture over them.
excerpted from: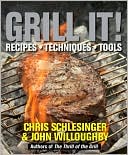 Sign-Up Now!
Sign up to save recipes or create shopping lists online.
Already registered? Login here

Cooking Tips
More Videos: