Home > Food > Recipes > Rosemary-Grilled New York Strip Steak with Caramelized Red Onion Jam
Rosemary-Grilled New York Strip Steak with Caramelized Red Onion Jam
This simple recipe adds rosemary and garlic to the mix, along with an easy but flavorful onion jam.
Ingredients:
3 tablespoons roughly chopped fresh rosemary
3 tablespoons olive oil
1 garlic clove, peeled
1 tablespoon kosher salt
1 tablespoon freshly cracked black pepper
4 boneless loin shell steaks, about 11/2 in (3-4cm) thick, 12-14oz (350-400g) each
The onion jam
1 head garlic
3 tablespoons olive oil, divided
2 medium red onions, peeled and thinly sliced
Kosher salt and freshly cracked black pepper to taste
1/4 cup balsamic vinegar
1 tablespoon dark brown sugar
Directions:
For the jam: Heat the oven to 300°F (150°C); slice the top quarter off the head of garlic, set it on a sheet of foil and sprinkle with one tablespoon of the olive oil, salt, and pepper, then wrap and braise until soft (about 1 hour). Set it aside to cool. On the stove top, heat the rest of the olive oil in a large sauté pan or skillet over medium heat until it is hot but not smoking. Add the onions, sprinkle with salt and pepper, and sauté until the onions start to soften (about 5 minutes). Reduce the heat to low and continue to cook, stirring often, until the onions are well caramelized (20-30 minutes). Making sure the garlic is cool enough to handle, squeeze the flesh from each clove. Add the garlic to the onions, stirring to incorporate, then add the vinegar and brown sugar and mix well. Continue cooking until the mixture is sticky and thickens slightly (about 2 minutes more). Remove from the heat and set aside.
While the onions are cooking, build a multilevel fire in your grill (see Multilevel charcoal fire). When the coals are all ignited, the flames have died down, and the temperature is hot (see Gauging the temperature), you're ready to cook.
Combine the rosemary, olive oil, garlic clove, and salt and pepper in a mortar and pestle or small, sturdy bowl and mash to a paste. Dry the steaks with paper towels, and rub them all over with the seasoning paste. Put the steaks on the grill over the hottest coals and sear them well (4-5 minutes per side). Slide the steaks over to the cooler part of the grill and continue to cook, turning once, until they are done to your liking (10-12 minutes more for rare). To check for doneness, poke the steaks with your finger to test their firmness (see The "hand method"); if you're unsure, make a small cut in the thickest steak-it should be just slightly less done than you like it. Transfer the steaks to a serving platter and cover loosely with foil. Let them rest for 5-10 minutes before serving with the onion jam.
excerpted from: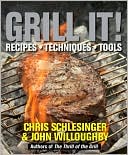 Sign-Up Now!
Sign up to save recipes or create shopping lists online.
Already registered? Login here

Cooking Tips
More Videos: