Home > Food > Recipes > Scallops & Shrimp with Lentils
Scallops & Shrimp with Lentils
An inspired pairing of aromatic simmered lentils with quick-cooked seafood that makes an excellent prepare-ahead dish.
Prep Time: 10M
Cooking Time: 30M
Serves: serves 4
Ingredients:
Egg, gluten, & nut free
12 large scallops without coral
12 jumbo shrimp
3 tbsp sweet chili sauce (optional)
3 tbsp lime juice (optional)
1 tbsp butter
1 onion, finely chopped
2 garlic cloves
1 tbsp finely chopped fresh ginger
1 tsp ground cumin
1 tsp ground coriander
1/2 tsp chili, cayenne, or paprika powder
generous 1 cup red lentils
4 1/4 cups water or stock
1 tbsp lime or lemon juice
2 tbsp heavy cream
salt and pepper to season
nut-free flavorless vegetable oil for grilling scallops
1 tsp finely chopped red chili
2 tbsp fresh cilantro leaves
Directions:
Pat the scallops dry on paper towels. Marinade the shrimp in the chili sauce and lime juice, if using.
Melt the butter in a saucepan and fry the onion, garlic, and ginger, stirring, for 2 minutes until softened. Add the cumin, coriander, and chili, cayenne, or paprika to the mixture and fry for 1 minute, stirring.
Add the lentils and water or stock. Bring to a boil, then reduce to a simmer. Simmer for 25 minutes or until the lentils are soft but not mushy, stirring occasionally. Remove from the heat and stir in the lemon juice and cream and season well with salt and pepper. Place on a serving dish and keep warm.
Preheat the broiler or grill pan to medium.
Slice the scallops horizontally into two or three horizontally, depending on their size, and brush all over with oil.
Grill or broil the shrimp for about 2 minutes on each side, until pink. Grill or broil the scallops for just 30 seconds each side or they will be overcooked.
Scatter the chopped chili and cilantro leaves over the lentils. Serve immediately.
Tips:
If grilling, place the shrimp directly on the grill 4 inches from the coals and cook for about 2 minutes each side. Skewer the scallops through the middle, brush with oil, and grill 3 inches from the coals, turning once, for 30-60 seconds each side.
Watch out for lentils-some legumes (lentils) are processed in factories that also process products that contain gluten. Check for seafood allergies-shrimp are crustaceans and scallops are mollusks. Some people cannot tolerate chilies-omit if in any doubt.
Variations
Dairy free also egg, gluten, & nut free: Follow the recipe for Egg, gluten, & nut free, but substitute an equal quantity of soy or other dairy-free cream for the 1 tablespoon used in the recipe.
excerpted from: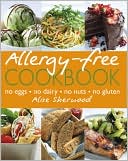 Excerpted from Allergy-Free Cookbook.
Copyright © 2009 Dorling Kindersley Limited.
Buy this book now!
Sign-Up Now!
Sign up to save recipes or create shopping lists online.
Already registered? Login here

Cooking Tips
More Videos: