Home > Food > Recipes > Simple Brick-Grilled Squid with Lemon, Chile, and Garlic
Simple Brick-Grilled Squid with Lemon, Chile, and Garlic
Squid is a different, yet delicious, alternative for dinner, and lemon, chile, and garlic season it perfectly
Serves: Serves 4 as an appetizer
Ingredients:
11/2lb (675g) cleaned squid with tentacles (separate these from the squid bodies, or ask your fishmonger to do so), thoroughly rinsed and drained well
2 tablespoons olive oil
1 tablespoon red pepper flakes
Kosher salt and freshly cracked black pepper to taste
The dressing
1/3 cup roughly chopped fresh cilantro
1/4 cup extra virgin olive oil
Juice of 1 lemon (about 1/4 cup)
1 teaspoon minced garlic
7 dashes Tabasco sauce, or to taste
Directions:
Build a fire in your grill. When the coals are all ignited, the fire has died down, and the temperature is hot (see Gauging the temperature), you're ready to cook. Wrap a clean brick with foil and place it by your grill.
Put the squid in a large bowl, add the olive oil, red pepper flakes, and salt and pepper, and toss gently to coat. Thread the tentacles onto skewers so they don't fall through the grill when you cook them.
Combine the cilantro, olive oil, lemon juice, garlic, and Tabasco in a large bowl. Mix well and set aside.
Arrange a few squid bodies on the grill over the coals, and cover them completely with the brick. Cook until opaque throughout, about 2 minutes per side, then remove the brick and allow the bodies to cook for about 30 seconds longer, until they are golden brown and crispy. Repeat this process with the rest of the squid bodies, adding the tentacles to the grill (no brick required) with the last batch. Cook the tentacles for about 2 minutes, until they are evenly brown and crispy.
Slice the squid bodies into rings and add them, along with the tentacles, to the lemon-garlic dressing, tossing to coat. Pile the squid onto a platter and serve.
excerpted from: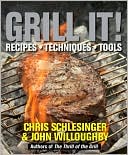 Sign-Up Now!
Sign up to save recipes or create shopping lists online.
Already registered? Login here

Cooking Tips
More Videos: