Home > Food > Recipes > Spanish Vegetable Tortilla
Spanish Vegetable Tortilla
In Spain, a tortilla is a thick, frittata-like dish, often made with just potatoes. This version includes broccoli and peas
Prep Time: 15M
Cooking Time: 45M
Serves: makes 4 servings
Ingredients:
1/2 cup fresh or frozen peas
1 cup small broccoli florets
6 tbsp olive oil
12oz ( 350g) baking potatoes, such as russet or Burbank, peeled and cut into 3/4 in ( 2cm) cubes
1 medium red onion, finely chopped
6 large eggs, beaten
salt and freshly ground black pepper
Directions:
Bring a large saucepan of lightly salted water to a boil over high heat. Add the peas and boil for 5 minutes, or until just tender. Use a wire sieve to transfer the peas to a bowl of cold water. Return the pan to a boil, add the broccoli, and boil for 4 minutes, or until just tender. Transfer the broccoli to the peas and cool. Drain the vegetables together and pat dry with paper towels.
Heat 4 tbsp of the oil in a 9in (23cm) nonstick frying pan over medium heat. Add the potatoes and onion. Cook, stirring occasionally, for 10-15 minutes, or until the potatoes are tender. Let cool slightly.
Beat the eggs in a large bowl, and season with salt and pepper.
Use a slotted spoon to transfer the potatoes and onions to the eggs. Add the peas and broccoli and gently stir. Wipe out the pan with paper towels.
Heat the remaining 2 tbsp oil in the pan over high heat. Pour in the egg mixture, reduce the heat to low, and smooth the surface. Cook gently for 20-25 minutes or until the top begins to set and the underside is golden brown.
Carefully, slide the tortilla on to a plate. Place a second plate on top and invert both together so that the cooked side is on top. Slide the tortilla back into the pan and cook for 5 minutes, until the underside is golden brown.
Let stand for at least 5 minutes. Invert onto a serving platter. Serve warm or cooled, cut in wedges.
Tips:
9in (23cm) nonstick frying pan
Prepare ahead: The tortilla can be made a day in advance.
Good with a dressed salad of mixed greens.
Variations
Quick Tortilla: For simple tortilla, omit the peas and broccoli. Substitute red-skinned potatoes, cut into matchsticks, and cook for about 10 minutes.
excerpted from: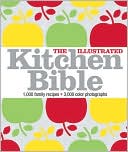 Excerpted from The Illustrated Kitchen Bible.
Copyright © 2008 Dorling Kindersley Limited.
Buy this book now!
Sign-Up Now!
Sign up to save recipes or create shopping lists online.
Already registered? Login here

Cooking Tips
More Videos: