Home > Food > Recipes > Texas-Style Slow Beef Brisket with Spicy Barbecue Sauce
Texas-Style Slow Beef Brisket with Spicy Barbecue Sauce
Beef brisket is transformed into a super-tender delicacy through long, slow cooking, and the sauce adds the perfect amount of kick.
Ingredients:
1 beef brisket, 10-12lb (4.5-5.5kg)
3 tablespoons olive oil
1/4 cup kosher salt
1/4 cup freshly cracked black pepper
The sauce
2/3 cup ketchup
1/2 cup cider vinegar
1/4 cup dark brown sugar
2 tablespoons hot sauce of your choice
1 teaspoon ground cumin
1 teaspoon paprika
1 teaspoon kosher salt
1 teaspoon freshly cracked black pepper
Directions:
Light a fire well over to one side of your grill, using enough coals to fill a large shoebox.
Rub the brisket with the oil and coat it evenly with salt and pepper, pressing gently to make sure it adheres.
When the fire has died down and the coals are covered with white ash, place the brisket on the side of the grill away from the coals, being careful that none of the meat is directly over the coals. Put the lid on the grill with the vents open one-quarter of the way and cook, adding a handful of fresh charcoal every 30 minutes or so, for 8-10 hours. To test for doneness, stick a big fork in the meat and try to lift it up-if it falls off the fork, it's done.
While the beef is on the grill, make the sauce: Combine the sauce ingredients in a small saucepan and mix well. On the stove top over medium heat, bring the mixture to a simmer and cook for 5 minutes to blend the flavors, then remove from the heat and transfer to a serving bowl.
To serve, slice the brisket thinly across the grain, and pass the barbecue sauce on the side.
excerpted from: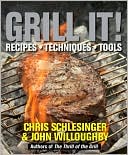 Sign-Up Now!
Sign up to save recipes or create shopping lists online.
Already registered? Login here

Cooking Tips
More Videos: