Home > Food > Recipes > Thai Green Chicken Curry
Thai Green Chicken Curry
A virtually authentic Thai curry with the characteristic aroma and flavor of coconut, fish sauce, ginger, curry, and herbs.
Prep Time: 10M
Cooking Time: 20M
Serves: serves 4
Ingredients:
Dairy, egg, gluten, & nut free
2 × 14 fl oz cans (31/2 cups) of coconut milk
1 lb skinless chicken breasts, cut into 1-in pieces
4 kaffir lime leaves, 2 left whole and 2 finely shredded
a little nut-free vegetable oil
2-3 red, orange, or yellow bell peppers, sliced (optional)
2 tbsp Thai green curry paste
3 tbsp Thai fish sauce
2 tsp palm sugar or brown sugar
3-4 green chilies, seeded and crushed (optional)
3 stalks lesser galangal, peeled and shredded
51/2 oz snowpeas (optional)
1 red chili, seeded and finely shredded
10-12 Thai sweet basil leaves, torn
Directions:
Open both cans of coconut milk and spoon the thick coconut cream that has risen to the top of the cans into a saucepan. Pour the thinner milk at the bottom of the cans into a measuring cup for use later.
Add the chicken and the 2 whole kaffir lime leaves to the thick coconut cream. Cook on a moderately high heat for 10 minutes or until the chicken is just cooked through. Remove the chicken to a plate using a slotted spoon.
Boil the coconut cream until it thickens and the oil separates out. It will look curdled at this stage but don't worry. It will be used to thicken and flavor the sauce (in step 5).
In a large frying pan, fry the bell peppers (if using) in oil for about 3 minutes. Set aside. Fry the curry paste in a tablespoon of the remaining coconut milk for 1-2 minutes until the fragrance is released. Add the fish sauce and sugar and stir.
Add the remaining coconut milk, green chilies (if using), lesser galangal, and snowpeas (if using). Stir and cook on medium heat for 5 minutes. Return the peppers (if using), chicken, and coconut cream to the pan and cook for about 5 minutes to make sure that the meat is heated through. Scatter the shredded kaffir lime leaves, red chili, and sweet basil leaves over the curry just before you've finished heating the meat through.
Serve immediately with steamed or boiled rice.
Tips:
s If you can't get lesser galangal, use a 1/2 inch piece of fresh ginger. Grated zest of 1/2 lime is a good substitute for the lime leaves.If you don't like your curries too hot, replace the shredded red chili with a quarter of a red bell pepper, seeded and thinly sliced.
excerpted from: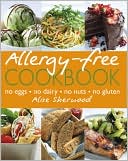 Excerpted from Allergy-Free Cookbook.
Copyright © 2009 Dorling Kindersley Limited.
Buy this book now!
Sign-Up Now!
Sign up to save recipes or create shopping lists online.
Already registered? Login here

Cooking Tips
More Videos: