Home > Food > Recipes > Tortillas
Tortillas
These allergy-free tortillas are so versatile; use them to scoop up Chili con carne, wrap around fillings for lunchtime treats, or turn stale ones into chips to serve with dips.
Prep Time: 5M
Cooking Time: 20M
Serves: makes 8
Ingredients:
Dairy & nut free
1/2 cup all-purpose flour
1/2 cup cornmeal
a pinch of salt
1 large egg, beaten
2/3 cup water
Directions:
Mix the dry ingredients together in a bowl.
Beat in the egg in the water to form a fairly thin batter. Pour into a measuring container.
Dust a sheet of paper towel with flour on the work surface.
Heat a small nonstick heavy frying pan. Turn down the heat to medium.
Pour in an eighth of the batter, lift the pan up to quickly swirl the batter around the pan to coat the base and a little way up the sides. Cook over medium heat until the edge of the tortilla begins to curl slightly. Flip over and quickly dry out the other side.
Slide onto the paper towel and dust with a little more flour. Cover with a second sheet of paper towel to keep the tortilla soft. Repeat, reheating the pan slightly between each tortilla, and stirring the batter every time until all of them are made. If you're not planning to use the tortillas immediately, cool and store in an airtight container. They are suitable for freezing.
See the serving suggestion for delicious lunchtime wrap ideas.
Tips:
Try the following ideas for lunch-box wraps. For herb dip with roasted peppers, use the Herb dip. Spread generously onto a tortilla, add a handful of roasted red peppers, and roll up into a wrap.For smoked salmon with crème frâiche, spread some crème frâiche (or, if you can't tolerate dairy, soya cream cheese thinned with soy cream and a squeeze of lemon) onto a tortilla. Add a slice of smoked salmon and roll up into a wrap.
Variations
Egg free also dairy & nut free: Follow the recipe for Dairy & nut free, but omit the egg and substitute 1/4 cup of potato flour for half of the cornmeal and increase the water to 1 cup.
Gluten free also dairy & nut free: Follow the recipe for Dairy & nut free, but substitute gluten-free all-purpose flour for the ordinary all-purpose flour and increase the water to 1 scant cup.
excerpted from: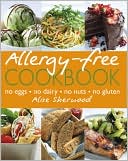 Excerpted from Allergy-Free Cookbook.
Copyright © 2009 Dorling Kindersley Limited.
Buy this book now!
Sign-Up Now!
Sign up to save recipes or create shopping lists online.
Already registered? Login here

Cooking Tips
More Videos: