Home > Food > Recipes > Grilled Artichoke, Arugula, and Radicchio Salad with Lemon-Feta Dressing
Grilled Artichoke, Arugula, and Radicchio Salad with Lemon-Feta Dressing
The slight bitterness of the arugula and radicchio in this salad provides a good complement to the mellowness of the artichoke, and the Greek flavors of the dressing bring it all together.
Serves: Serves 4 as a salad course or appetizer
Ingredients:
4 artichokes
1 red bell pepper, cored, seeded, and halved
1 small red onion, peeled and sliced in 1/2in (1cm) thick rounds (keep rings together)
1/4 cup olive oil
Kosher salt and freshly cracked black pepper
1 bunch arugula, trimmed, washed, and dried well
1 head radicchio, cored and sliced into thin strips
The dressing
1/2 cup crumbled feta cheese
1/3 cup extra virgin olive oil
Juice of 1 lemon (about 1/4 cup)
2 tablespoons roughly chopped fresh parsley
1 teaspoon minced garlic
Kosher salt and freshly cracked black pepper to taste
Directions:
On the stove top, bring a large pot of salted water to a boil over high heat. While the water is heating, trim the artichoke stems, snap off the coarse outer leaves, then cut 1in (2.5cm) off the top of each artichoke. Quarter each artichoke and remove the hairy-looking "choke" from each quarter. Add the artichoke quarters to the boiling water, adjust the heat to low, and simmer until tender (15-20 minutes). Drain, cool in a bowl of ice water, and drain well again. Set aside.
Build a fire in your grill. When the coals are all ignited, the flames have died down, and the temperature is hot (see Gauging the temperature), you're ready to cook.
Rub the poached artichoke hearts, bell peppers, and onion slices with oil and sprinkle generously with salt and pepper. Put the vegetables on the grill and cook until golden brown and slightly charred (5-7 minutes per side). Transfer the grilled artichoke hearts and onions to a large bowl, separating the onions into rings; cut the grilled peppers into strips and add them to the bowl, along with the arugula and radicchio.
Whisk together all the dressing ingredients in a medium bowl (the dressing will be chunky). Add the dressing to the salad gradually, tossing very gently as you go along until everything is lightly and evenly coated.
excerpted from: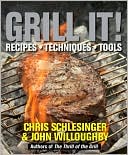 Sign-Up Now!
Sign up to save recipes or create shopping lists online.
Already registered? Login here

Cooking Tips
More Videos: