Home > Food > Recipes > Grilled Curry Chicken with Watercress, Grapes, Peaches, and Orange-Red Wine Vinaigrette
Grilled Curry Chicken with Watercress, Grapes, Peaches, and Orange-Red Wine Vinaigrette
The curry-coated chicken in this dish has a marvelous aroma that is balanced with sweet grapes and peaches and pleasantly bitter watercress.
Serves: Serves 4 as a salad course or appetizer
Ingredients:
2 boneless, skinless split chicken breasts (cutlets), about 8oz (225g) each
2 tablespoons olive oil
1 tablespoon good-quality curry powder
Kosher salt and freshly cracked black pepper
2 bunches watercress, trimmed, washed, and dried well
20 green grapes, stemmed, halved, and deseeded
2 ripe but firm peaches, pitted and sliced into 8 sections
The dressing
1 cup fresh orange juice
1/3 cup extra virgin olive oil
1/3 cup red wine vinegar
2 tablespoons roughly chopped fresh parsley
Kosher salt and freshly cracked black pepper to taste
Directions:
Make the dressing: On the stove top, bring the orange juice to a boil in a small pan over high heat, then lower the heat slightly and simmer until reduced in volume to 1/4 cup (about 20 minutes). Remove from the heat and allow to cool to room temperature. Add the oil, wine vinegar, parsley, salt, and pepper, whisk together, and set aside.
Build a fire in your grill. When the coals are all ignited, the flames have died down, and the temperature is medium (see Gauging the temperature), you're ready to cook.
Coat the chicken breasts with oil, rub them all over with the curry powder, and sprinkle them generously with salt and pepper. Place them on the grill directly over the coals and cook until they are browned on the outside and just cooked through (6-8 minutes per side). To check for doneness, poke the chicken with your finger to test its firmness (see The "hand method"); if you're unsure, make a cut in the thickest part of one of the breasts and check to be sure that it is opaque all the way through. When the breasts are done, transfer them to a plate and cover them loosely with foil to keep warm.
While the chicken is cooking, combine the watercress, grapes, and peaches in a large bowl. Stir the dressing again, add to the watercress-fruit mixture, and toss well to coat. Divide the salad among four plates.
Slice the chicken on the bias into strips, arrange the strips on top of each salad, and serve.
excerpted from: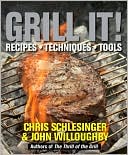 Sign-Up Now!
Sign up to save recipes or create shopping lists online.
Already registered? Login here

Cooking Tips
More Videos: