Home > Food > Recipes > Marjoram-Grilled Lamb with Arugula, Lima Beans, and Port-Mustard Dressing
Marjoram-Grilled Lamb with Arugula, Lima Beans, and Port-Mustard Dressing
Marjoram goes perfect with lamb, and the accompanying lima bean and arugula salad make a delicious side.
Serves: Serves 4 as a salad course or appetizer
Ingredients:
1lb (450g) boneless lamb sirloin
1/4 cup olive oil
1 teaspoon minced garlic
2 tablespoons roughly chopped fresh marjoram (or substitute oregano)
Kosher salt and freshly cracked black pepper
2 bunches arugula, trimmed, washed, and dried well
1 cup cooked fresh lima beans, or 1 cup frozen lima beans, thawed
The dressing
1 tablespoon Dijon mustard
1 teaspoon minced shallot
2 tablespoons port
1/3 cup extra virgin olive oil
Kosher salt and freshly cracked black pepper to taste
Directions:
Build a multilevel fire in your grill (see Multilevel charcoal fire). When the coals are all ignited, the flames have died down, and the temperature is hot (see Gauging the temperature), you're ready to cook.
Dry the lamb well with paper towels. Combine the oil, garlic, and marjoram in a small bowl, and mix well. Rub the lamb all over with this mixture, then sprinkle generously with salt and pepper. Place the lamb on the hot side of the grill and sear well (about 10 minutes per side). Move to the medium-hot area of the grill and continue to cook until the meat reaches the internal temperature you like (4-6 minutes per side for medium-rare). To check for doneness, insert a meat thermometer into the dead center of the roast, let it sit for 5 seconds, then read the temperature: you're looking for 120°F (49°C) for rare, 126°F (52°C) for medium-rare (how we like it), 134°F (57°C) for medium, 150°F (66°C) for medium-well, and 160°F (70°C) for well done. Remove the lamb from the grill, cover loosely with foil, and let it rest for 10 minutes.
While the lamb is resting, make the salad: Combine the arugula and lima beans in a large bowl. In a small bowl, whisk together the mustard, shallots, and port; add the oil slowly in a thin stream, whisking until well blended. Season with salt and pepper, then drizzle the beans and arugula with just enough dressing to coat lightly, and toss well. Divide among four salad plates.
Slice the lamb against the grain, 1/4-1/2in (0.5-1cm) thick. Fan 1/4 of the slices over each salad, drizzle with a little more dressing, and serve.
excerpted from: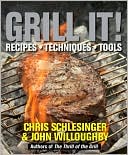 Sign-Up Now!
Sign up to save recipes or create shopping lists online.
Already registered? Login here

Cooking Tips
More Videos: