Home > Food > Recipes > Pepper-Crusted Grilled Flank Steak Salad with Tomatoes and Basil
Pepper-Crusted Grilled Flank Steak Salad with Tomatoes and Basil
This Mediterranean-inspired salad is the perfect meal for a hot summer day.
Serves: Serves 4 as an entrée
Ingredients:
1/4 cup freshly cracked black pepper
3 tablespoons kosher salt
1lb (450g) flank steak or top round
1 bunch arugula, trimmed, washed, and dried
1 cup loosely packed small fresh basil leaves
4 vine-ripened tomatoes (preferably beefsteak), about the size of baseballs, cored and sliced about 1in (2.5cm) thick
The dressing
1/3 cup top-quality extra virgin olive oil
3 tablespoons top-quality balsamic vinegar
Kosher salt and freshly cracked black pepper to taste
Directions:
Build a fire in your grill. When the coals are all ignited, the flames have died down, and the temperature is hot (see Gauging the temperature), you're ready to cook.
Combine the 1/4 cup black pepper and 3 tablespoons salt in a small bowl and mix well. Rub the steak generously with this mixture, lay it over the coals, and grill until almost done to your taste (5-7 minutes per side, depending on thickness, for medium-rare). To check for doneness, poke the steak with your finger to test its firmness (see The "hand method"); if you're unsure, make a cut in the thickest part and peek inside to be sure that it is slightly less done than you like it. Set the steak aside to cool slightly.
Scatter the arugula and basil leaves over a large platter to cover. Lay the tomato slices on top. Slice the steak crosswise as thinly as possible, then cut the slices in half and arrange them over the tomatoes. Drizzle the oil over the salad, followed by the balsamic vinegar, then sprinkle generously with salt and pepper and serve immediately.
excerpted from: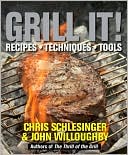 Sign-Up Now!
Sign up to save recipes or create shopping lists online.
Already registered? Login here

Cooking Tips
More Videos: