Home > Food > Recipes > Romaine and Avocado Salad with Grilled Chile Shrimp and Lime-Cumin Dressing
Romaine and Avocado Salad with Grilled Chile Shrimp and Lime-Cumin Dressing
The crunchy texture and the Mexican flavors of lime, cilantro, cumin, chile, and avocado make this salad quite appealing.
Serves: Serves 4 as a salad course or appetizer
Ingredients:
1lb (450g) medium-large (16/20 per pound) shrimp, peeled and deveined
2 tablespoons olive oil
1 teaspoon chile powder
Kosher salt and freshly cracked black pepper to taste
1 large head romaine lettuce, washed, dried, and cut crosswise into 2in (5cm) pieces
12 cherry tomatoes, washed, dried, and stemmed
2 ripe but firm avocados, halved, pitted, peeled, and each half cut into 3 wedges
The dressing
Juice of 3 limes (about 1/3 cup)
1/3 cup extra virgin olive oil
2 tablespoons roughly chopped fresh cilantro
1 teaspoon minced garlic
1 teaspoon ground cumin
Kosher salt and freshly cracked black pepper to taste
Directions:
Build a fire in your grill. When the coals are all ignited, the flames have died down, and the temperature is medium-hot (see Gauging the temperature), you're ready to cook.
In a large bowl, whisk the dressing ingredients together well.
In another bowl, combine the shrimp, oil, chile powder, and salt and pepper and mix well to coat the shrimp evenly. If desired, thread the shrimp onto skewers; otherwise, arrange them on the hot side of the grill. Cook until just done (3-4 minutes per side). To check for doneness, carefully cut into one of the shrimp at its thickest point and peek inside to be sure it is just opaque all the way through.
While the shrimp are cooking, divide the lettuce, cherry tomatoes, and avocado wedges among four salad plates.
Transfer the cooked shrimp to the bowl of dressing (pushing them off the skewers, if you used them) and mix gently. Arrange the shrimp on each salad, spoon the remaining dressing over the top, and serve.
excerpted from: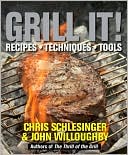 Sign-Up Now!
Sign up to save recipes or create shopping lists online.
Already registered? Login here

Cooking Tips
More Videos: