Home > Food > Recipes > Smoky Eggplant and Grilled Pepper Salad with Braised Garlic, Pomegranate Molasses, and Mint
Smoky Eggplant and Grilled Pepper Salad with Braised Garlic, Pomegranate Molasses, and Mint
This substantial salad uses classic Middle-Eastern flavors and stands alone as a delicious main dish.
Serves: Serves 4 as a salad course or appetizer
Ingredients:
2 medium eggplants, sliced into rounds about 1/2 in (1cm) thick
2 red bell peppers, cored, seeded, and halved
1/4 cup olive oil
Kosher salt and freshly cracked black pepper to taste
2 pieces pita bread
2 tablespoons extra virgin olive oil
1 tablespoon freshly cracked coriander seeds (or substitute 11/2 teaspoons ground coriander)
The dressing
1 head of garlic
Juice of 1 lemon (about 1/4 cup)
1/3 cup extra virgin olive oil
1/4 cup roughly chopped fresh mint
2 tablespoons pomegranate molasses
1 teaspoon ground cumin
Kosher salt and freshly cracked black pepper to taste
Directions:
Braise the garlic for the dressing: Heat the oven to 300°F (150°C); slice the top quarter off the head, set it on a sheet of foil and sprinkle with a little oil, salt, and pepper, then wrap and braise until soft (about 1 hour).
Build a multilevel fire in your grill (see Multilevel charcoal fire). When the coals are all ignited, the flames have died down, and the temperature is medium-hot (see Gauging the temperature), you're ready to cook.
In a large bowl, combine the eggplant, pepper, oil, and salt and pepper and toss gently. Put the vegetables on the hotter side of the grill and cook, turning once, until slightly browned (4-5 minutes per side for the eggplant; 3-4 per side for the peppers). Put them back into the bowl you originally tossed them in.
While the vegetables cook, rub the pitas with oil, sprinkle with coriander, and place on the side of the grill with fewer coals. Cook until nicely toasted and slightly charred here and there (2-3 minutes). Cut them into wedges.
Make the dressing: Making sure the garlic is cool enough to handle, squeeze the flesh from each clove and mash with the lemon juice in a small bowl. Add the remaining ingredients and mix well. Pour the dressing over the vegetables and toss gently. Transfer the salad to a serving dish and serve, accompanied by the grilled pita bread.
excerpted from: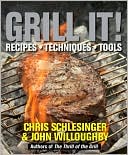 Sign-Up Now!
Sign up to save recipes or create shopping lists online.
Already registered? Login here

Cooking Tips
More Videos: