Home > Food > Recipes > Southeast Asian-Style Cabbage Salad with Grilled Chicken
Southeast Asian-Style Cabbage Salad with Grilled Chicken
Cabbage has a nice little bite to it and provides the perfect foil for grilled chicken breasts and peanut-lime dressing.
Serves: Serves 4 as an entrée
Ingredients:
2-4 tablespoons minced fresh chile peppers of your choice, to taste
2 tablespoons freshly cracked white pepper (or substitute black pepper)
3 tablespoons kosher salt
4 boneless, skinless split chicken breasts (cutlets), about 8oz (225g) each
1/2 head Napa cabbage, cut crosswise into thin strips
1 red bell pepper, halved, seeded, and cut into thin strips
1/2 cup loosely packed fresh basil leaves
1/2 cup loosely packed fresh cilantro leaves
1/3 cup loosely packed fresh mint leaves
The dressing
Juice of 2 limes (about 1/4 cup)
3 tablespoons Southeast Asian fish sauce (available in Asian markets or large supermarkets)
2 tablespoons finely chopped unsalted roasted peanuts
1 tablespoon granulated sugar
1 tablespoon peeled and minced fresh ginger
1 teaspoon minced fresh garlic
Directions:
Build a fire in your grill. When the coals are all ignited, the flames have died down, and the temperature is medium-hot (see Gauging the temperature), you're ready to cook.
Combine all the dressing ingredients in a small bowl, whisk to blend well, then set aside.
Combine the minced chiles, white pepper, and salt in another small bowl and mix well. Rub the chicken generously with this spice mixture, then put it over the coals and grill until opaque all the way through (6-8 minutes per side, depending on thickness). To check for doneness, cut into one cutlet and peek in to be sure that it is opaque all the way through. Set the chicken aside to cool slightly.
Combine the cabbage, bell pepper, and herbs in a large bowl. Slice the chicken crosswise into thin strips, then cut the slices into bite-size pieces and add to the salad. Stir the dressing again, add just enough to moisten the salad (there will probably be some dressing left over), toss to coat, and serve.
excerpted from: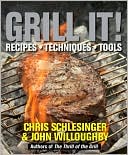 Sign-Up Now!
Sign up to save recipes or create shopping lists online.
Already registered? Login here

Cooking Tips
More Videos: