Home > Food > Recipes > Spinach and Grilled Peach Salad with Blue Cheese, Bacon, and Sweet-and-Sour Dressing
Spinach and Grilled Peach Salad with Blue Cheese, Bacon, and Sweet-and-Sour Dressing
Grilled peaches paired with fresh spinach and a crumble of blue cheese and bacon makes a great meal, or a great appetizer before a simple steak dinner.
Serves: Serves 4 as a salad course or appetizer
Ingredients:
8 strips bacon
2 ripe but firm peaches, halved and pitted
2 tablespoons olive oil
2 bunches baby spinach leaves, trimmed, washed, and dried
1/2 cup crumbled blue cheese of your choice
The dressing
2 tablespoons ketchup
2 tablespoons grainy mustard
1 tablespoon granulated sugar
1 teaspoon minced fresh garlic
3/4 cup extra virgin olive oil
1/4 cup balsamic vinegar
Juice of I lime (about 2 tablespoons)
Kosher salt and freshly cracked black pepper to taste
Directions:
Build a fire in your grill. When the coals are all ignited, the flames have died down, and the temperature is medium-hot (see Gauging the temperature), you're ready to cook.
On the stove top, cook the bacon in a saut� pan over medium heat until crisp (6-8 minutes). Drain off any fat and let the bacon cool until you are able to handle it, then crumble it roughly between your fingers into a small bowl.
Make the dressing: Combine the ketchup, mustard, sugar, and garlic in a blender or food processor and pur�e. With the machine running, add the oil in a slow, steady stream. When all the oil is incorporated, add the vinegar and lime juice and pulse to combine. Season with salt and pepper to taste.
Rub the peach halves with oil, sprinkle them with salt and pepper, then put over the coals and grill, cut sides down, until nicely browned (4-5 minutes). Remove from the grill, cut each half into 4 wedges, and transfer to a large bowl, along with the spinach.
Pulse the dressing a few more times to blend; add enough dressing to the peaches and spinach just to moisten (there will probably be some dressing left over), and toss to coat. Arrange the salad on a platter or individual serving plates, sprinkle generously with the blue cheese and bacon, and serve.
excerpted from: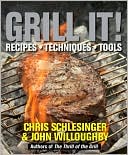 Sign-Up Now!
Sign up to save recipes or create shopping lists online.
Already registered? Login here

Cooking Tips
More Videos: