Home > Food > Recipes > Allergy-free béchamel sauce
Allergy-free béchamel sauce
This classic French bechamel sauce is a base ingredient for many recipes, from lasagna to moussaka. With a dairy-free option.
Prep Time: 20M
Cooking Time: 10M-15M, plus 20 minutes to infuse
Serves: serves 4-6
Ingredients:
Egg & nut free
2 cups milk
1 onion, peeled, halved, and studded with two whole cloves
6 peppercorns
4 parsley stalks
3 tbsp butter
1/4 cup all-purpose flour
2 tbsp light cream
salt and freshly ground black pepper
Directions:
Place the milk, clove-studded onion, peppercorns, and parsley stalks in a saucepan. Bring to a boil, simmer for 10 minutes and remove from the heat. Let infuse for 20 minutes before straining the milk back into a saucepan and discarding the vegetables.
Melt the butter on low heat in a separate saucepan. Add the flour. Mix well and cook for about 2 minutes taking care not to let the butter and flour mixture brown. Bring the infused milk to a simmer.
Keeping the flour and butter mixture on a low heat, add in the milk gradually, using a whisk to ensure there are no lumps. When all the milk has been incorporated, simmer the sauce on a very low heat for 8-10 minutes to get rid of any lingering floury taste, stirring constantly with a wooden spoon.
Stir in the cream. Season to taste with salt and pepper. If keeping for later, cover with a circle of wet waxed paper.
Tips:
You can make a quick basic white sauce by omitting step 1 and adding a sachet of bouquet garni to the pan in step 3 before simmering the sauce. If a thinner pouring sauce is needed, add more warmed milk or stock in step 3.
Variations
Dairy free also egg & nut free: Follow the recipe for Egg & nut free, but use nondairy spread instead of the butter; soy, rice, or oat milk in place of the cow's milk; and use soy cream alternative instead of the cream
Gluten free also egg & nut free: Follow the recipe for Egg & nut free, but use 1/4 cup of a gluten-free flour mix or a half and half mix of rice flour and cornstarch.
excerpted from: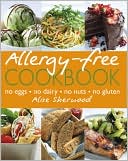 Excerpted from Allergy-Free Cookbook.
Copyright © 2009 Dorling Kindersley Limited.
Buy this book now!
Sign-Up Now!
Sign up to save recipes or create shopping lists online.
Already registered? Login here

Cooking Tips
More Videos: