Home > Food > Recipes > Allergy-Free Pesto
Allergy-Free Pesto
The famous Genoese basil and pine nut sauce has many uses. Serve with pasta, sitrred into rice salads, or in sandwiches.
Prep Time: 10M
Serves: makes about 2 cups
Ingredients:
Egg, gluten, & nut free
1 cup fresh basil leaves
1/3 cup pine nuts
2 garlic cloves, crushed
scant 1/4 cup grated Parmesan
1 cup extra virgin olive oil
salt and pepper to season
Directions:
In a food processor, process the basil leaves, pine nuts, garlic, and Parmesan for about 30 seconds to form a rough paste.
Add the oil in a thin stream through the top or funnel with the food processor still running. You should have a thick paste. If it seems too dry add 1-2 tablespoons more oil. Season to taste.
Tips:
Watch out for pine nuts, which are classified as a seed rather than a nut. Most people allergic to tree nuts and peanuts can eat pine nuts, but check before serving to them.
Variations
Dairy free also egg, gluten, & nut free: Follow the recipe for Egg, gluten, & nut free Pesto, but substitute the Parmesan with an equal quantity of dairy-free cheese or omit altogether for cheeseless pesto as shown here (with focaccia).
excerpted from: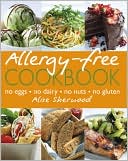 Excerpted from Allergy-Free Cookbook.
Copyright © 2009 Dorling Kindersley Limited.
Buy this book now!
Sign-Up Now!
Sign up to save recipes or create shopping lists online.
Already registered? Login here

Cooking Tips
More Videos: