Home > Food > Recipes > Ragu Bolognese
Ragu Bolognese
Delicious with spaghetti, this ragu works well with any pasta that has plenty of surface area for the sauce to cling to.
Prep Time: 20M
Cooking Time: 2H
Serves: serves 4
Ingredients:
Egg, gluten, & nut free
2 tsp olive oil
1 onion, finely chopped
2 garlic cloves, finely chopped
1 carrot, finely chopped
2 oz bacon, pancetta, or prosciutto, chopped into 3/4-in pieces
101/2 oz lean ground beef
3 1/2 oz chicken livers, trimmed and chopped
1/2 cup dry white wine
14 oz can chopped tomatoes with their juice
2 tbsp tomato paste
sea salt and freshly ground black pepper to season
1/4 tsp freshly grated nutmeg
1 bay leaf
4 tbsp heavy cream
chopped fresh parsley for garnishing (optional)
Directions:
Heat 1 tablespoon of oil in a flameproof casserole dish or heavy-bottomed saucepan. Fry the onions for 2 minutes or until lightly golden. Add the garlic and carrot and fry for another 2 minutes. Add the bacon and cook for another 2 minutes. Remove from the pan with a slotted spoon and set aside.
Heat the remaining oil and fry the meat until browned, stirring all the time to break up the lumps. Add the chicken livers and mix in well. Return the vegetable and bacon mixture to the pan and combine with the beef and liver.
Add the wine, tomatoes, and tomato paste. Season with salt and pepper and add the grated nutmeg and bay leaf.
Bring to a boil, stirring; reduce to as low as possible and simmer very gently until rich and tender, 11/4 hours, stirring occasionally. Stir in the cream and continue to simmer very gently for another 45 minutes.
Serve the ragu stirred into pasta, with parsley, if desired, and a bowl of grated Parmesan.
Tips:
Watch out for the pasta because many types of store-bought pasta contain gluten or egg, or both. However, if you check the labels carefully, you will be able to find pasta that you and your guests will be able to eat.
Variations
Dairy free also egg, gluten, & nut free: Follow the recipe for Egg, gluten, & nut free, but use soy cream alternative instead of heavy cream and nondairy Parmesan alternative (sometimes called vegan Parmesan) -beware since it can be quite salty.
excerpted from: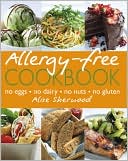 Excerpted from Allergy-Free Cookbook.
Copyright © 2009 Dorling Kindersley Limited.
Buy this book now!
Sign-Up Now!
Sign up to save recipes or create shopping lists online.
Already registered? Login here

Cooking Tips
More Videos: