Home > Food > Recipes > Grilled Potato Steaks with Bacon and Sour Cream
Grilled Potato Steaks with Bacon and Sour Cream
Who doesn't love a baked potato with the works-butter, sour cream, bacon, and chives?
Ingredients:
2 large baking potatoes, well scrubbed (not peeled)
4 slices bacon, diced small
2 tablespoons olive oil
Kosher salt and freshly cracked black pepper to taste
1/2 cup sour cream
1 small bunch chives, minced
1/4 cup unsalted butter (optional)
Directions:
Build a fire in your grill. When the coals are all ignited, the flames have died down, and the temperature is medium (see Gauging the temperature), you're ready to cook.
While you wait for the fire, cut thin slices lengthwise off 2 parallel sides of each potato so you can lay them flat. Now cut each potato in half lengthwise to make 2 steaks, each 1-11/2in (about 3cm) thick.
On the stove top, bring a large pan of boiling salted water to a boil and reduce the heat to a gentle simmer. Cook the potatoes gently in the simmering water until just done but still very firm (8-9 minutes). To check for doneness, poke with a toothpick: It should slide into the potato, but meet with a fair amount of resistance. Drain the potatoes and pat them dry with paper towels.
Meanwhile, cook the bacon in a small sauté pan or skillet over medium heat until crisp (6-8 minutes), then transfer to kitchen paper to drain.
Brush the potato steaks with oil and sprinkle them generously with salt and pepper, then put them on the grill directly over the coals and cook, turning once, until they are really crispy and brown (4-5 minutes per side).
Arrange the potatoes on a platter and top with the bacon, sour cream, and chives, plus the butter if desired.
excerpted from: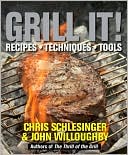 Sign-Up Now!
Sign up to save recipes or create shopping lists online.
Already registered? Login here

Cooking Tips
More Videos: