Home > Food > Recipes > Potato Gratin
Potato Gratin
This baked potato dish is rich with cream and fragrant with garlic and nutmeg
Prep Time: 15M-20M
Cooking Time: 1H30M
Serves: makes 4-6 servings
Ingredients:
2lb ( 900g) white- or red-skinned boiling potatoes
salt and freshly ground black pepper
2 1/2 cups heavy cream
1 garlic clove, cut in half
pinch of freshly ground nutmeg
3 tbsp butter, at room temperature, cut up, plus more for the dish
Directions:
Preheat the oven to 350°F (180°C). Butter a 2qt (2 liter) shallow baking dish.
Peel the potatoes. Using a mandoline, a food processor fitted with a fine slicing blade, or a large knife, slice the potatoes into rounds about 1/8in (3mm) thick. Rinse the slices in cold water. Drain and pat dry with paper towels or a clean kitchen towel.
Place the potatoes in layers in the baking dish, seasoning with salt and pepper as you go.
Bring the cream, garlic, and nutmeg to a boil in a saucepan. Pour the cream over the potatoes. Dot the top with the butter.
Cover with aluminum foil. Bake about 11/4 hours, or until the potatoes are just tender. Remove the foil. Increase the oven temperature to 450°F (250°C) and bake until the top is golden, about 10 minutes. Serve hot.
Tips:
mandoline or food processor fitted with fine slicing blade
Prepare ahead: The potatoes can be peeled, sliced, and stored in water to cover for several hours.
Good with salad for supper, or as a side dish to smoked fish or broiled or roasted meats.
Variations
Potato and Cheese Gratin: Add 2 finely chopped anchovies to the cream at step 4. Sprinkle 1 cup shredded Gruyère cheese, between the potato layers, saving a little for sprinkling on the top.
excerpted from: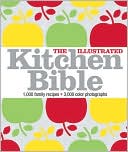 Excerpted from The Illustrated Kitchen Bible.
Copyright © 2008 Dorling Kindersley Limited.
Buy this book now!
Sign-Up Now!
Sign up to save recipes or create shopping lists online.
Already registered? Login here

Cooking Tips
More Videos: