Home > Food > Recipes > Chicken Fricassée
Chicken Fricassée
There are many variations of this one-pot French chicken stew
Prep Time: prep 15 mins
Cooking Time: cook 1 hr 15 mins
Serves: makes 4 servings
Ingredients:
4 boiling potatoes, peeled and diced
2 tbsp olive oil
4 chicken drumsticks, skin removed
4 chicken thighs, skin removed
salt and freshly ground black pepper
2 tbsp all-purpose flour
4oz ( 115g) small white mushrooms
4 shallots, sliced
2 garlic cloves, minced
2 tsp chopped rosemary
2 / 3 cup dry white wine
1 1 / 4 cups chicken stock
1 bay leaf
Directions:
Cook the potatoes in a saucepan of boiling water for 5 minutes. Drain well.
Heat the oil in a large frying pan over medium-high heat. Season with chicken with salt and pepper and dust with the flour. Add to the pan and cook, turning often, about 6 minutes, until browned. Transfer to a plate. Add the shallots to the pan and cook, stirring often, about 2 minutes, until softened. Add the potatoes, mushrooms, garlic, and rosemary, and cook 2 minutes more.
Add the wine, bring to a boil, and cook for 1 minute. Add the stock and return to the boil. Return the chicken to the pan, add the bay leaf, and cover. Reduce the heat and simmer about 50 minutes, or until the chicken is very tender. Discard the bay leaf and adjust the seasoning with salt and pepper. Serve hot.
Tips:
prep 15 mins; cook 1 hr 15 mins
Variations
German Chicken Fricassée: Add a squeeze of fresh lemon juice, a pinch of grated nutmeg, and a dash of Worcestershire sauce in step 4. Toward the end of cooking time, stir in 1 cup thawed frozen peas. Just before serving, mix 1 large egg yolk and 1/4 cup heavy cream. Remove the pan from the heat, and stir the yolk mixture into the sauce. Serve with boiled rice.
excerpted from: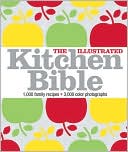 Excerpted from The Illustrated Kitchen Bible.
Copyright © 2008 Dorling Kindersley Limited.
Buy this book now!
Sign-Up Now!
Sign up to save recipes or create shopping lists online.
Already registered? Login here

Cooking Tips
More Videos: