Home > Food > Recipes > Lobster Bisque
Lobster Bisque
Bisque, an elegant creamy shellfish soup, is thought to have originated in the Spanish Biscay region
Prep Time: prep 45 mins
Cooking Time: cook 1 hr 10 mins
Serves: makes 6-8 servings
Ingredients:
1 cooked lobster, about 2 1 / 4 lb ( 1kg)
3 tbsp butter
1 onion, finely chopped
1 carrot, finely chopped
2 celery stalks, finely chopped
1 leek, white and pale green part only, finely chopped
1 / 2 fennel bulb, finely chopped
2 garlic cloves, minced
1 tarragon sprig
1 bay leaf
7 cups fish stock
1 / 2 cup Cognac or brandy
1 / 2 cup dry white wine or vermouth
4 ripe tomatoes, coarsely chopped
1 / 4 cup tomato paste
1 / 4 cup long-grain rice
1 / 2 cup heavy cream
2 tbsp fresh lemon juice
cayenne pepper
salt and freshly ground black pepper
crème fraîche and chopped chives, to garnish
Directions:
Split the lobster in half. Twist off the claws and legs, break the claw apart at the joints, and crack the shells. Remove all meat from the lobster, chop the meat into small pieces, cover, and refrigerate. Chop the shell into rough pieces.
Heat the butter in a large saucepan over medium heat. Add the onion, carrot, celery, leek, fennel, garlic, tarragon, and bay leaf. Cook, stirring occasionally, for about 10 minutes, until tender.
Add the lobster shells. Stir in the fish stock, Cognac, wine, tomatoes, tomato paste, and rice. Bring to a boil, then simmer for 1 hour.
Let cool. In batches, pulse the stock mixture in a blender to chop the shell into small pieces.
Strain through a coarse sieve, pressing through as much liquid as possible. Strain again through a fine sieve to be sure that no shell remains in the soup.
Return the soup to a boil. Stir in the cream and lemon juice, and season with cayenne, salt, and pepper. Stir in the lobster and heat through. Ladle into bowls, garnish with crème fraîche and chives, and serve hot.
Tips:
prep 45 mins; cook 1 hr 10 mins
Variations
Crab Bisque: Substitute 1 cooked Dungeness crab for the lobster. Pull off the top shell, remove and discard the gills and grit sac. Pull off the legs and crack the claws. Remove all of the available meat from the crab, chop, and refrigerate. Reserve the crab shells to use in step 3. Cook 2 tbsp peeled and chopped fresh ginger with the vegetables in step 2.
excerpted from: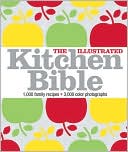 Excerpted from The Illustrated Kitchen Bible.
Copyright © 2008 Dorling Kindersley Limited.
Buy this book now!
Sign-Up Now!
Sign up to save recipes or create shopping lists online.
Already registered? Login here

Cooking Tips
More Videos: