Home > Food > Recipes > Strawberry Jam
Strawberry Jam
Simple homemade strawberry jam stores well until you're ready to use it
Prep Time: prep 10 mins
Cooking Time: cook 20-25 mins
Serves: makes 7-8 jars
Ingredients:
4 1 / 2 lb ( 2kg) strawberries
6 tbsp lemon juice
4lb ( 1.8kg) sugar
Directions:
Put a small plate in the refrigerator to chill before you begin. Hull the strawberries, weighing them occasionally to determine when you have 4lb (1.8kg) hulled berries. Halve the berries, put them in the nonmetallic bowl, and lightly crush with a large fork.
Put the crushed berries, accumulated juices, and the lemon juice in a large pan and bring to a boil. Reduce the heat to low and simmer for 5-10 minutes, stirring, or until the berries are soft.
Add the sugar and stir over a low heat until it completely dissolves. Increase the heat and boil rapidly for 15 minutes, without stirring, or until the jam reaches the setting point. Remove the pan from the heat and test for a set.
With the pan still off the heat, use a large metal spoon to skim the surface. Let the jam cool slightly so that a thin skin forms and the berries are evenly distributed throughout. Pour the jam into the prepared jars to within 1/8in (3mm) of the tops and seal. Let the jam cool, then label and date the jars. Store in a cool, dark place until ready to use, then refrigerate after opening.
Tips:
prep 10 mins; cook 20-25 mins
excerpted from: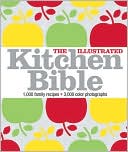 Excerpted from The Illustrated Kitchen Bible.
Copyright © 2008 Dorling Kindersley Limited.
Buy this book now!
Sign-Up Now!
Sign up to save recipes or create shopping lists online.
Already registered? Login here

Cooking Tips
More Videos: